EPSON FLATBED VS. DRUM SCANNER
These comparisons were made using an Epson V750 flatbed and SMB's Linotype-Hell (Heidelberg)
ChromaGraph S3400
drum scanner. Though it's an unfair fight, these comparisons demonstrate the ways in which drum scanners excel at scanning film. This comparison is not intended to disparage Epson flatbed owners or their work, but rather was created as a useful resource for photographers, artists, educators, and students.
Though an Epson V750 was used for this comparison, similar results could be produced on a V700, V800, or V850 which all use the same sensor and optical design since 2006. Epson's older 4990 model uses a different optical design and would likely produce slightly lower quality results. Other Epson models such as the V370, V550, and V600 would surely produce lesser results compared to the V750 used in this comparison.

For scans made on the Epson V750, Epson Scan software was used along with Epson's supplied film holders. All curves and adjustments were turned off other than colour negative or B&W inversion when applicable. No sharpening (USM) was applied and levels were set to ensure that no information was clipped. Files were saved as 16-bit TIFF (no compression) in either AdobeRGB (1998) or Gray Gamma 2.2. SMB is aware of the methods available to improve Epson flatbed scans such as fluid mounting kits and improved holders, however these tests are roughly equal to the average user's results.
For scans made on SMB's Linotype-Hell (Heidelberg)
ChromaGraph S3400
drum scanner, SilverFast software was used and film was wet-mounted using
Lumina
fluid and optical mylar. Using SilverFast's proprietary 48-bit HDR scanning mode, all film—B&W, colour negative, or slide—was scanned as a positive and inverted manually when applicable. No sharpening (USM), curves, or adjustments were applied at the scanning stage. Files were saved as 16-bit TIFF (no compression) in either AdobeRGB (1998) or Gray Gamma 2.2.
Two adjustments were made to the scans below: 1) one levels layer to set an appropriate white and black point without clipping any information 2) one curves layer to give the image a reasonable amount of contrast. No sharpening (USM) or other enhancements were applied.
For all of the examples below, files were converted to sRGB in order to be safe for web display. Please keep in mind that all displays vary—particularly laptops and non-calibrated screens—which may affect the accuracy of the examples.
Epson V750, 3200ppi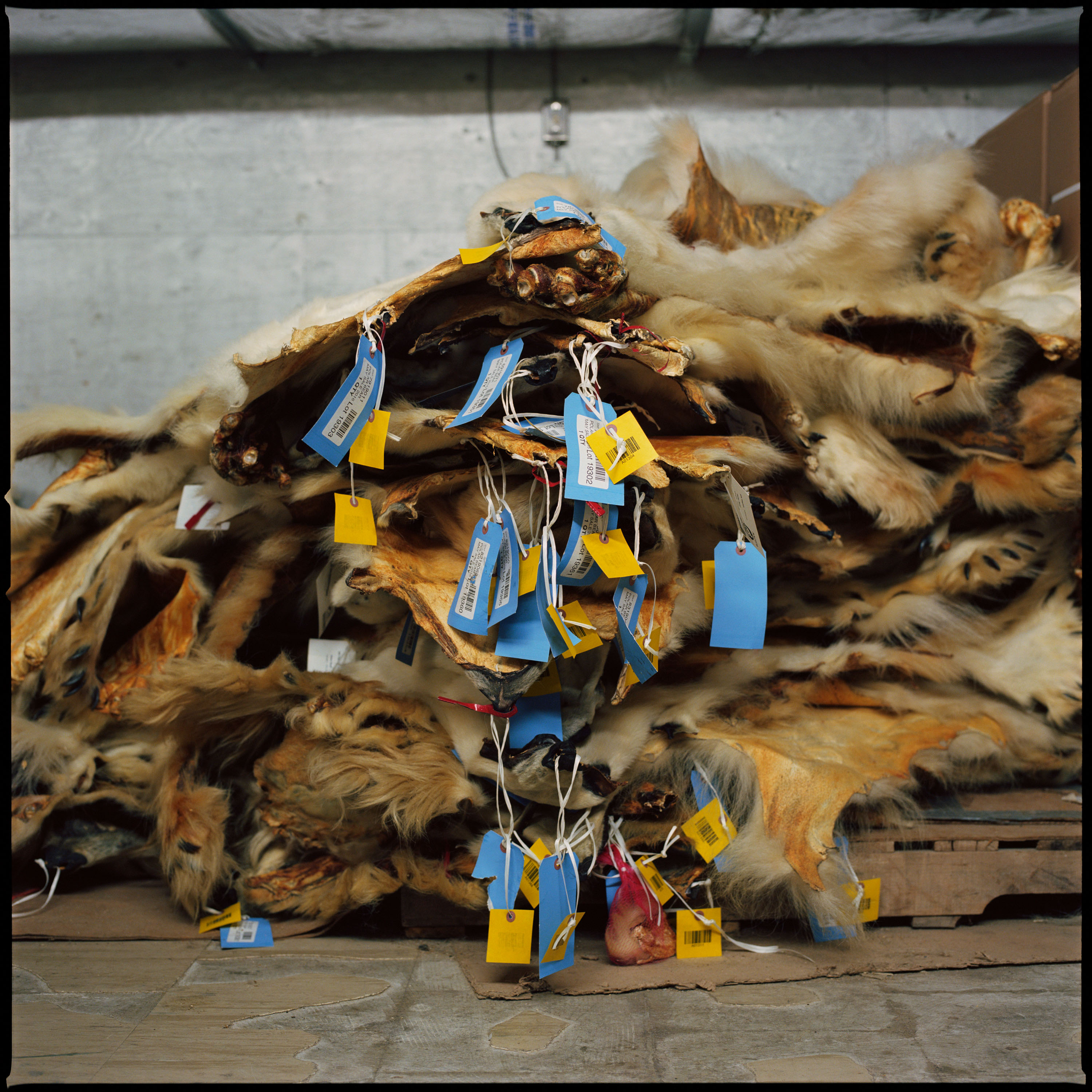 Drum scanner, 3200ppi
Kodak Ektar is a particularly difficult emulsion to scan properly because of its higher contrast and saturation vs. Portra. Overall the Epson V750 scan renders cyan/green in both the shadows and highlights due in part to Epson Scan's poor negative inversion. The cyan/green cast was much more apparent before basic corrections. Also notable is the lost image area due to the Epson film holder.

The drum scan made on SMB's
ChomaGraph S3400
isn't perfect but could easily make an acceptable final print without further corrections. Colours are balanced and neutral in the shadows, neutrals, and highlights. A generous amount of shadow detail is present throughout and the vivid colours of the blue and yellow tags are handled gracefully.
Epson V750, 3200ppi (100%)
Drum scanner, 3200ppi (100%)
At 100% magnification, it's clear that the Epson V750 cannot resolve 3200ppi even though it is well within its stated specifications. In addition to the empty shadows, there is also red fringing visible on certain high contrast edges of the white strings.
Whereas the V750 struggles to resolve the small text on the blue tags, the drum scan is crisp and full of detail. Though both examples above are unsharpened, no amount of sharpening (USM) applied to the V750 scan can bring back details which aren't present in the original scan.
Epson V750, 3200ppi (100%)
Drum scanner, 3200ppi (100%)
With a steep curve applied to the shadows of the V750 scan, a small amount of detail is recovered with a heavy cyan cast. Overall, the shadows appear empty and the pile of furs loses some three-dimensionality. The very high contrast look of the V750 scan is simply a reflection of the scanner's shortcomings, rather than the negative.
The drum scan, on the other hand, contains all of the information in the negative from the deepest shadows to the brightest highlights. This is due in part to the manual negative inversion performed by SMB as well as the exceptional sensitivity of photomultiplier tubes (PMTs) vs. CCD sensors.
Epson V750, 3200ppi (100%)
Drum scanner, 3200ppi (100%)
Nearly all roll film exhibits small scratches, either from the transport mechanism of the camera or handling before/after processing. As shown above, dust and scratches are painfully visible when using dry scanning methods such as the Epson V750 or Imacon (Flextight).
When compared to the V750 scan, the wet-mounted scan made on SMB's
ChomaGraph S3400
has no visible scratches and minimal dust. If the output of the V750 was less soft to begin with, the difference would be even more apparent.